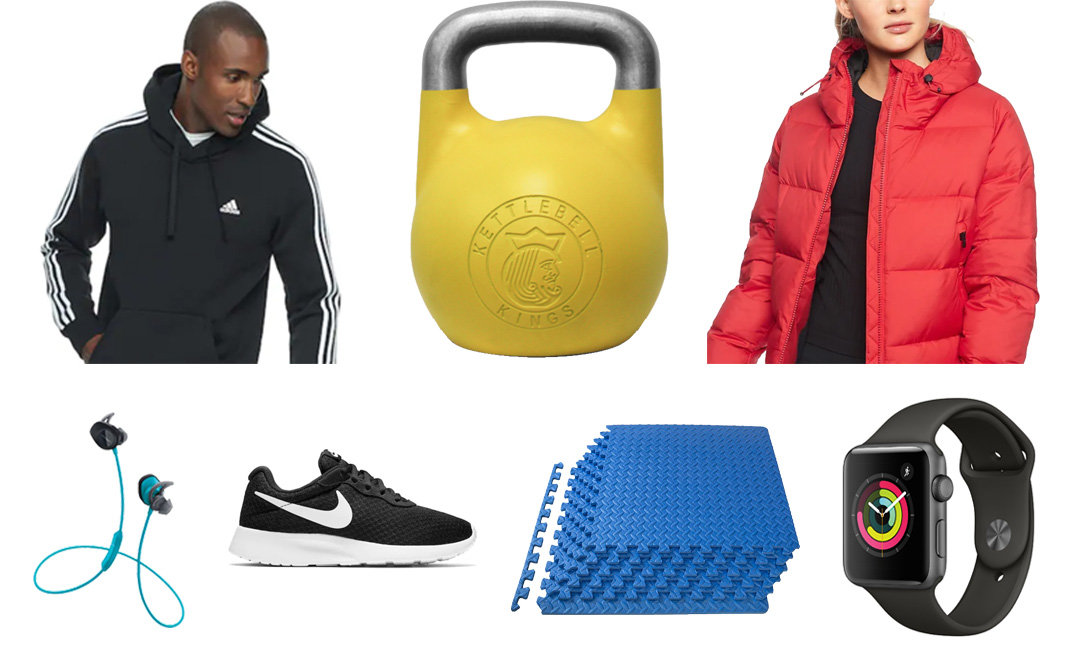 Whether you're getting some holiday shopping done or simply looking to treat yourself a little bit, there are a ton of amazing Black Friday fitness deals you won't find any other time of the year. We've rounded up the best Black Friday deals on your favorite sports watches, yoga mats, gym bags, clothing and everything in between. Keep reading for the goods!
Tech
Walmart has an awesome deal on Bose SoundSport Wireless Headphones. They have dropped the price to $99 from $149 which is an absolute steal. The deal will be available Wednesday, November 21 online and in-stores Thanksgiving day.
Target is bringing the Fitbit Charge 3 down to $120 from $160, available online Thanksgiving day.
Macy's is featuring the Apple Watch Series 3 for $199, which is $80 down from its original price. This will be available in stores and online on Thanksgiving day.
Samsung is offering their Android watch for $260, which is $70 in savings from the original price. This will be available on Samsung's website starting Friday, November 16th.
Clothing & Shoes
Kohl's is offering 25-40% off Adidas apparel and shoes, starting in stores November 22nd.
Athleta is offering 20% off all in-store and online purchases from November 23rd-26th.
Kohl's is offering 25-30% off all Nike apparel and footwear starting November 22nd. Who doesn't love deals on Nike merch?
JCPenney has some sweet deals on New Balance shoes. If you or someone you know is looking for some new running shoes, this is the place to go, starting Thanksgiving day.
Kohl's is offering 30-40% off select styles on men's and women's apparel and shoes. The deal will start online and in-stores on November 22nd!
Equipment
Amazon has some awesome deals on Assault Fitness Cardio Equipment such as Assault Bikes and Air Runners for up to 26% off, starting November 16th and lasting through until November 23rd. Great if you're looking to build your home gym!
Amazon is offering another great deal on Puzzle Exercise Mats, reducing their price by 27%. If you're in the midst of building or planning your home gym, types of mats like these are going to be a lifesaver.
Fringe Sport has a great deal on one of their hybrid barbells to complete that home gym of yours. They're dropping the price from $399 to $349, and offering free shipping!
Kettlebell Kings will be running a 20% off storewide sale on Black Friday, plus 50% off apparel. Another great piece of equipment to add to that home gym!
Have a hot Black Friday tip? Spill the beans in the comments below!