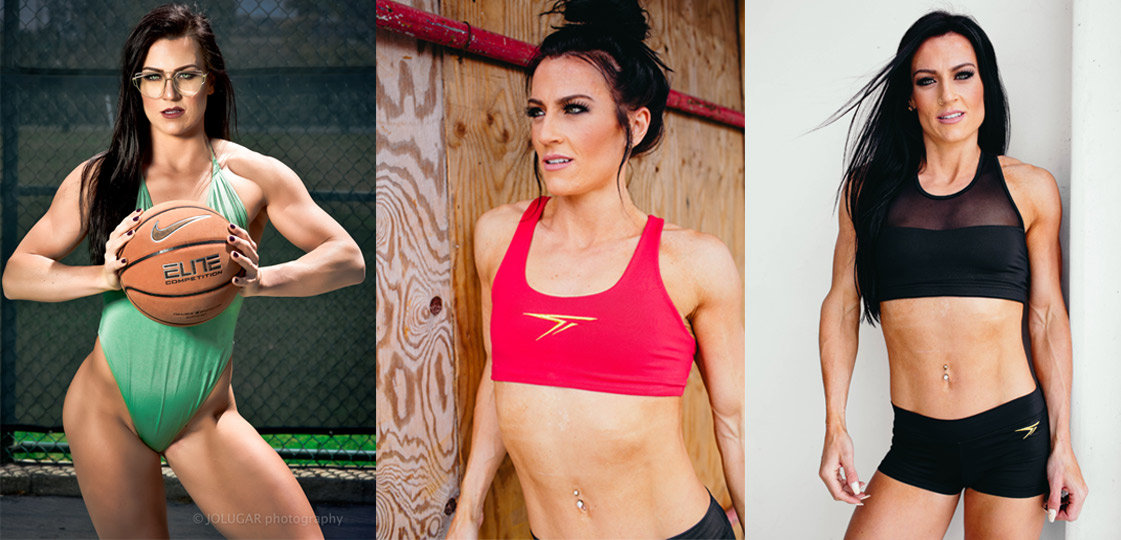 Erica Hepperle is a fitness and nutrition coach, fitness influencer and competitive bodybuilder in the figure division. She has competed in four local shows, taking 1st and 2nd place in all of them, and two national shows, one of which she placed 3rd. She's currently working towards competing in another national show in Miami in November 2018 while building her fitness model portfolio. She's also in the running for Ms. Health and Fitness, so be sure to vote for her every day for the next three days! Get to know more about Erica in our Q&A with her below.
FitMinutes: Hi Erica! Where ya from? Where have you been all our lives?
Erica: I actually haven't been too far! I'm a local LA native and grew up in Redondo Beach. I went to college down in San Diego, and after graduating, I went backpacking through Europe for about 2 months with friends. When I exhausted all my funds, I moved back home to LA to look for a job and figure out my next steps in life after college.
FitMinutes: Have you always been into fitness?
Erica: Yes and no! I did grow up an athlete. I played just about every sport you could possibly think of. From gymnastics to tap dancing to soccer, basketball, softball, volleyball and even hockey—I was always very active. I remember growing up changing uniforms in the backseat of my parents' car from All-Star soccer games to club basketball practice. I was ALWAYS on the go! But for some reason, I was ALWAYS overweight. I loved eating and had no nutritional guidance. In high school, I played club and varsity basketball. I was actually going to go to college for basketball, but I tore my ACL and the scholarships I was offered were to schools I had no interest in. I decided to go to college for academics instead, and that took me to San Diego State, where all fitness went out the window and was replaced with sorority and party life. I fell farrrr out of fitness and far into a dark place. But I made a comeback about three years ago!
FitMinutes: How did you get into training, competing, bodybuilding and fitness in general?
Erica: So, to go off of the "dark place" I mentioned above, I was partying A LOT, and when I say A LOT, I mean like Taco Tuesday through Sunday Funday. I guess Mondays were for sleeping and studying—ha! Believe it or not, I did maintain great grades, two serving jobs and a marketing internship. After graduation, I went backpacking through Europe with friends. Once I was back from my trip and back to reality, I knew I was unhappy with how I felt and looked. When I stepped on the scale and saw 189.5lbs standing at 5'7", I decided enough was enough. I needed to get my health and my life in order. I knew if I wanted a great corporate job in marketing or sales I needed to look and feel confident. Something had to change. So, I started working out regularly at a CrossFit/functional training facility and taking group fitness boot camps. I lost about 15lbs on my own, but it took like 9 months. When my progress stalled, I decided I needed to take it to the next level. I reached out to an old college friend and he introduced me to my now good friend Katie Corio, who directed me to our amazing bodybuilding and fitness coach Marques Caudle. After interviewing a few coaches, I knew he was the best choice. He told me it was going to be a long process and that nothing worth it is ever easy. All other coaches told me I could lose 50lbs in 12 weeks, which is NOT healthy! From the minute I joined Team CTN, the rest was history. The fire and my love for health and fitness was reignited and I found my passion for helping and motivating others!
FitMinutes: Why do you think fitness and nutrition are so important?
Erica: I can literally talk on this subject for DAYS! It's my passion. It fuels my fire. I live and breathe fitness and nutrition! But to try to keep it short and sweet, health and fitness are so important because being healthy and active leads to less medical complications. It's more than just good physical health though. Fitness empowers humans to be the best versions of themselves. There is something about being in control of your physical fitness that bleeds confidence and motivation. When you feel you are doing good for your body, your mind will follow. Because physical activity increases endorphins, we are less likely to feel the sensation of pain and can enjoy more of life's pleasures. Physical activity is SO FRICKIN' important, because it alleviates depression, reduces stress and anxiety and boosts self-esteem. Nutrition is also so important on so many levels! Whether you are trying to lose weight, gain muscle (weightlifting is GREAT for females because it helps avoid the loss of bone density) or even lower your blood pressure. Nutrition plays one of the most vital roles in our human function and has become so overlooked in America. Each macronutrient plays a vital role in our energy, moods and weight. What the heck is a macronutrient? Macronutrients are the 3 main nutrients our foods are made up of – protein, carbohydrates and fats. Food is fuel, but it can be consumed in incorrect amounts so it's important to pay attention to macros. Basically, nutrition and fitness boil over into all aspects of human lives.
FitMinutes: What makes you passionate about coaching others?
Erica: It's the reason I wake up every morning—I LOVE CHANGING LIVES! I love the feeling of being a rock for my clients. I love challenging them to find the best versions of themselves. And it all boils down to my "WHY?" I live to inspire others to break their own personal barriers by helping them understand what fuels their fire, so they can evolve into their most strong and authentic self!
FitMinutes: What are your current life and fitness goals?
Erica: Oh my gosh I could go on with a laundry list of these! For my own training, I am cutting body fat to prep for photo shoots, so I can build my portfolio for fitness modeling. Since stepping on stage for my first show, I have dreamed of being on the cover of a fitness magazine and a model for a big athletic company. I also want to develop an app that encompasses mental health and fitness coaching in one and I want to go back to school in 2019 for holistic medicine and nutrition coaching.
FitMinutes: How do you stay motivated to give it your all in the gym and life?
Erica: Most people think bodybuilders and competitors wake up every morning ready to hit the gym hard, but that would be a false statement. There are days when I drive to the gym and sit in my car for 30 minutes debating what was a better choice—going to the gym or staying in my bed. Ha! There are also days when I wake up and throw on my workout clothes like I was dreaming about the gym. On the days I lack motivation, I just give myself a pep talk. Literally, out loud, I say "Come on Erica, get it together. Get up and stop being a piece of %$&#!" In a good way of course, ha! It all boils down to how I feel when I go to the gym compared to when I take days off. I live for the feeling after kicking butt during a workout. I know that before working out I was in a deep dark place and I find now the gym is my happy place.
FitMinutes: Spill the beans. What is the most effective workout to get your booty in check?
Erica: HIP THRUSTS and DEADLIFTS – ALLLLL VARIATIONS!
FitMinutes: Any inspirational quote(s) you go by in life or in the gym?
Erica: Gym Quote: "Success doesn't come from what you do occasionally. Success comes from what you do consistently." Life Quote: "Today you are you! That is truer than true! There is no one alive who is you-er than you!"
FitMinutes: Any advice for people who are overwhelmed at the thought of getting into shape, or who are intimidated at the gym?
Erica: 
Start with baby steps. Don't try to commit to going to the gym 6 days a week if you were not going at all in the first place.
Find workouts you enjoy doing. There is a reason why there are so many different types of activities, classes and gyms. We are all different so different things excite us!
Find an accountabiliBUDDY who will hold you accountable for making sure you get to your workouts. PLUG WINK WINK: If you're looking for a personal trainer either online or in the LA area, I—ahem—may—ahem—know of someone. 😉
Schedule workouts into your day. Before you go to bed at night, pencil in where you MUST make your workout. That way it becomes a non-negotiable for your day. Just start by looking at the small picture. What fitness wins will you accomplish this week? Each week, set small goals and kick those goals in the booty. Before you know it, time will have passed, and you will have surpassed your BIG goal. Time is going to pass anyway, why spend it wishing when you could spend it working on bettering yourself?
As for the weight room, if you're intimidated, HIRE A PERSONAL TRAINER! They will show you the way and can be your shield to protect you in the weight room. If you don't have the budget for a personal trainer, just watch YouTube videos, then give it a try in the gym. I can guarantee you no one is actually watching you—they are too busy worrying about themselves.
FitMinutes: What do you do in your spare time when you're not competing, coaching or werkin' on that bod?
Erica: You can find me at a coffee shop, working on my next fitness project or watching informational YouTube videos. I am all about self-growth! You can also find me at the beach reading a book or adventuring around LA. I LOVE adventures! The downside of being a competitor is you can get so stuck in your routine and forget to live. Recently, I rekindled my love for trying new things and going on new adventures. A few passions I have outside of working out and coaching are snowboarding, wakeboarding and bike riding. I love the outdoors and have a passion for traveling. A big dream of mine that I will make come true is to travel to EVERY country in the world!
FitMinutes: We hear you're the health recipe queen. What's one of your favorites?
Erica: You heard right! I love food and when I'm craving something, I always have a trick to make it 10,000x healthier and still tasty. My favorite recipe is my Riced Cauliflower Protein Oats. Don't knock it until you try it! You really can't tell it's made with cauliflower. Here's the recipe:
Riced Cauliflower Oats
Prep Time: 5 min | Cook Time: 20 min | Makes: 6 servings
Ingredients:
3 Bag Green Giant Frozen Riced Cauliflower
60g Quest Nutrition Salted Carmel Protein Powder
72g Dried Oats
Cinnamon
Stevia
Skinny Girl Salted Caramel Sugar-Free Syrup
Kroger Carb Master Banana Cream Pie Yogurt
Directions:
Pour three bags of Green Giant frozen riced cauliflower in a large saucepan and fill with water to the top of the cauliflower.
While boiling on high heat, add cinnamon, Stevia and Skinny Girl Sugar-Free Salted Caramel Syrup.
Once you bring to a boil, add 60g of Quest Nutrition Protein (they have the best consistency) and 60g of oats!
Mix in protein and oats and let simmer for 5-10 minutes or until a thick consistency.
Once you divide into 6 servings, chill in fridge overnight.
When ready to eat, dump Kroger Carb Master Banana Cream Pie or Cinnamon Roll Yogurt over the top!
Enjoy!!!
Nutrition: 18 carbs/2 fat/21 protein (Those macronutrient things I was talking about!)
Well, that's all folks! As you can tell, it doesn't take long to fall in love with Erica. Her personality is as bright as the sun, and her motivating, empowering and positive spirit will make you feel like you can accomplish anything! Follow her on Facebook, Twitter and Instagram, and don't forget to vote for her every day for the next three days to help her achieve her dream of being Ms. Health & Fitness. And of course, contact her if you're looking for help in becoming your best you. Not in LA? She's also available for online coaching. Catch her in action in her video below and watch more of her vids on her YouTube channel!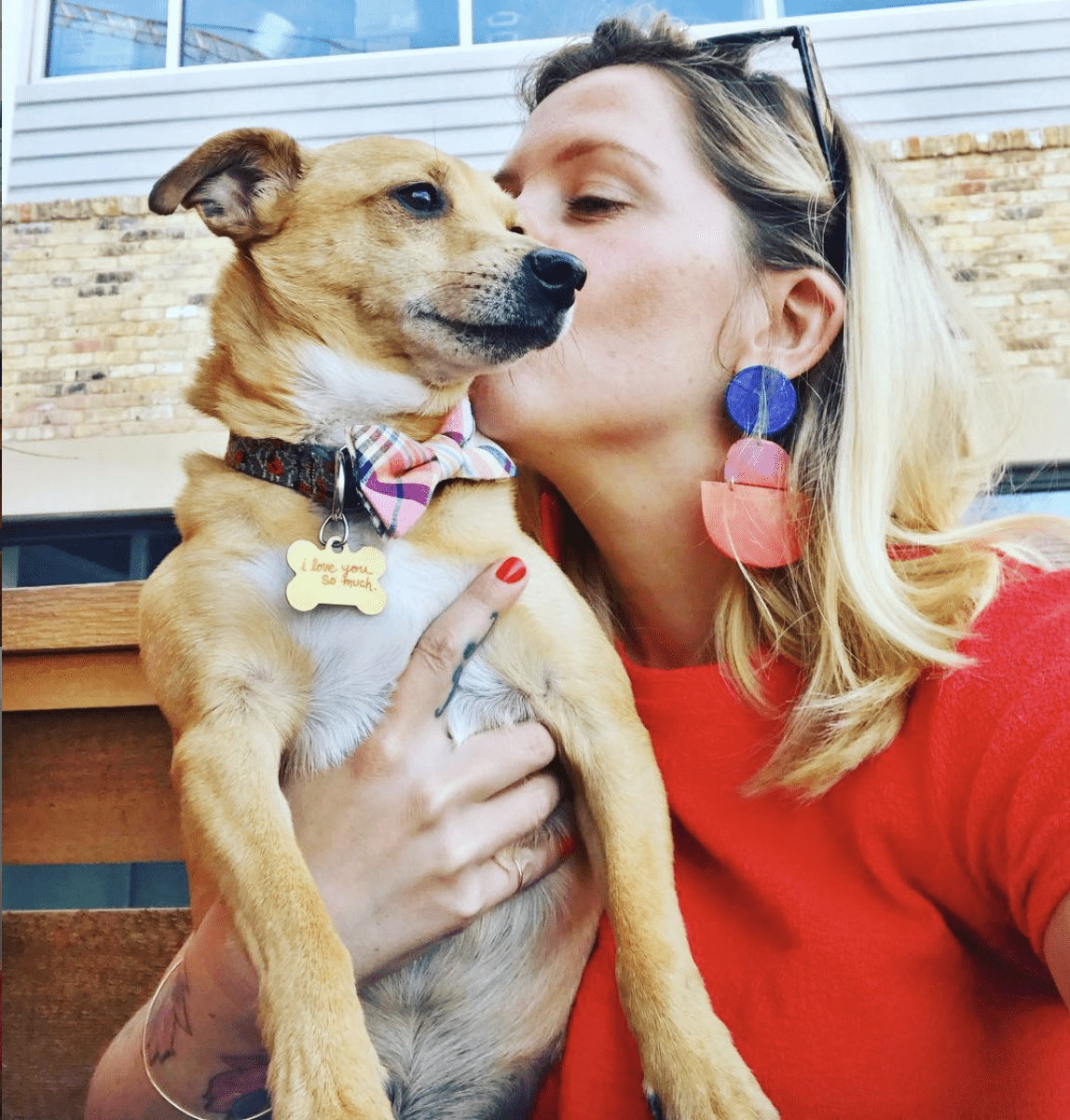 Melody Rose Rowan is the CEO + hostess with the mostess at @CuteStays. When she isn't blogging about style and interior design for her blog MustacheMelrose.com, Melody can be found renovating @MaxineTheAirstream with her husband, Scott, or playing with her two rescue dog-sons, Jake and Finn. Say hi at @mustachemelrose!