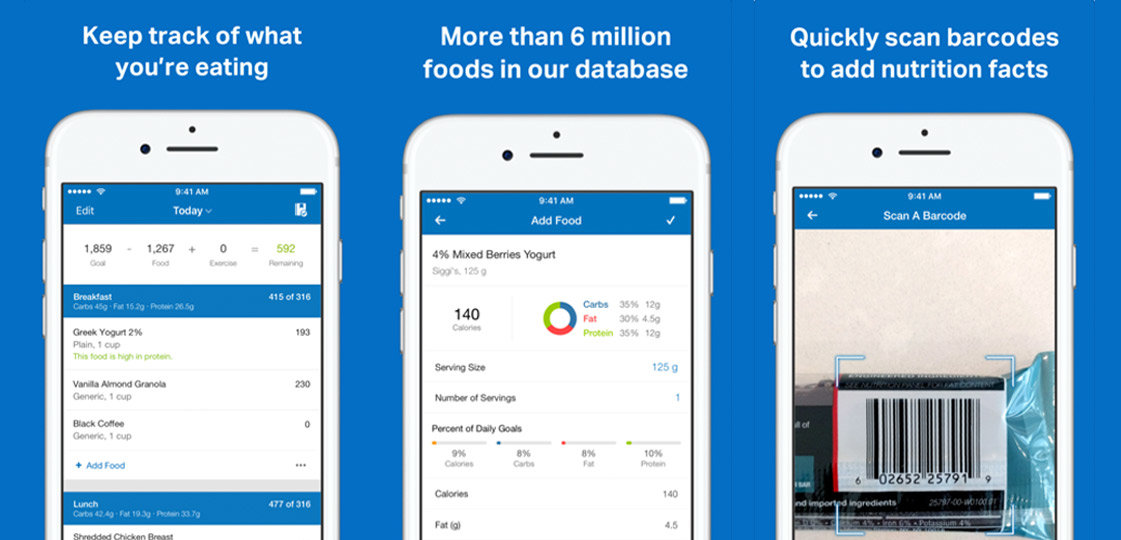 They say abs are made in the kitchen, not the gym. Well, unless we're talking about me baking a cake in the shape of a flat, toned stomach in my kitchen while my dog looks up at me begging for a drop of icing, I'm going to need a lot of help in this area. It's not easy to keep a food journal with you at all times and remember to log every single thing you put in your mouth and at what time, but if you're serious about losing weight and possibly earning that elusive six-pack, then keeping track of what you eat (and drink!) is key. When people consciously monitor and journal what they are eating, they are much more aware of whether or not they are over or under eating and are better equipped to make smarter eating decisions.
Enter MyFitnessPal, or MyBestFriendWhoITellEverythingTo, as I like to call it. MyFitnessPal is a free calorie counting app and website that was created by two brothers, Mike and Al Lee. The idea stemmed when Mike and his future wife were looking for a digital tool to help them lose a little weight before their beach wedding. They didn't find what they were looking for, so Mike decided to build it himself. The app has been featured in fancy sites like Self, Men's Health, Mashable and—ahem—FitMinutes. Under Armour must have thought they were doing a pretty bang-up job too because they bought it in 2015 for $475 million.
There are a few calorie counting apps out there, but MyFitnessPal is my favorite. Read on to learn why I love it so much and how I think it could also help you live your best life. I've also included some tips and tricks to help you get the most out of the app.
EASILY COUNT CALORIES & KEEP TRACK OF WHAT YOU EAT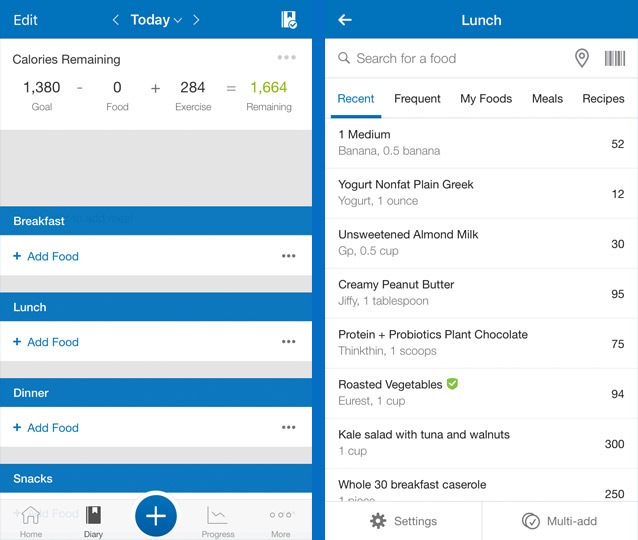 The app is super intuitive—you can easily walk your way through how to use it. When you first open the app, you fill out your profile with information about your weight, height and gender. You also answer a couple lifestyle Qs about how active you are at your job and how often you work out. From there, you can create a weight loss goal, and based on that goal, the app will tell you what your max daily calorie count should be.
When you're ready to record your first food entry, just tap the big blue plus sign and select food. Then select whether you want to add to breakfast, lunch, dinner or snacks. You can enter the food or drink item (yes, you can and should add your glass or three of red wine), choosing from a list of foods, meals and recipes you've entered recently or frequently, or by scanning the barcode of an item using your smart phone's camera, or just by searching for it in the app. They have more than 6 million foods in their database including meals you might cook at home and menu items at popular restaurants, so chances are you'll find what you're looking for. For instance, say you downed a Chobani strawberry yogurt this morning while driving to work, tap in the search field and start typing Chobani. The app will display tons of different flavors—just choose the correct one and tap the check mark to add it to your log. Once you enter a food item, it subtracts from the number of daily calories you're allotted, letting you know how many you have left to have fun with for the rest of the day. It even breaks down the calories, fat and protein. Pretty neat.
I ALSO USE IT TO LOG MY WORKOUTS, WEIGHT AND WATER INTAKE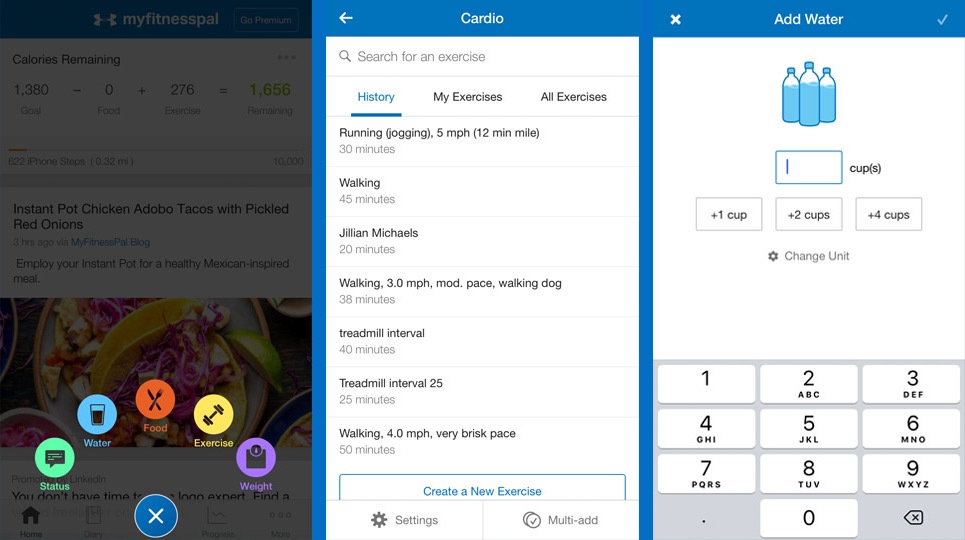 Yep, along with calories, it also helps me keep track of the amount of water I drink (or don't drink), workouts & weight. Which bring me to…
IT HOLDS ME ACCOUNTABLE
There is a community aspect built into the MyFitnessPal app. I have personally shied away from sharing my nutritional information because I'd hate for my Facebook friends to know I blew up a successful day of working out, eating healthy and drinking a ton of water by going home and finishing a box of Thin Mints. The community is nice to have if you want to share, but you can totally make your account private so you can keep those accidental cheat days to yourself. Even though I'm not sharing all my food and exercise activity to the world, I am still sharing it with the app by inputting everything I eat or how much I exercise, which means I'm actively sharing it with myself. Because of the app, I'm definitely more mindful of my daily workouts and what's going into my body.
THEIR BLOG IS A GREAT RESOURCE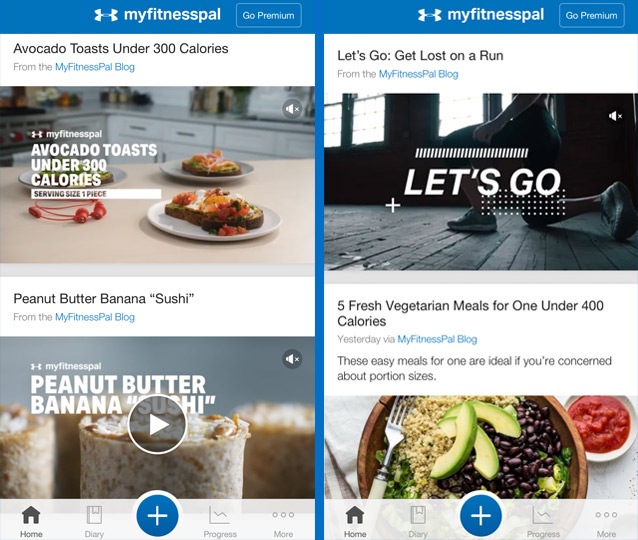 Gah, I love everything about their blog, which can be accessed on their website and app. It's full of delicious and healthy recipes that an actual real-life person can make. I hate when I search easy low-calorie dinner recipes on the internet and it brings back results that involve some sort of Julia Child wizardry. These recipes are real people friendly. Some of my favorites are High Fiber Chicken and Black Bean Enchiladas, Shrimp Fried Quinoa with Egg Whites and Slow Cooker Chicken Mole Tacos. In addition to recipes, their blog includes posts on nutrition, weight loss, fitness and inspiration. Some of their latest posts include What Lunch With 30 Grams of Protein Looks Like, How a Nutritionist Spends $50 at Whole Foods and 7 Tiny Tweaks to Cut Calories All Year Long.
THEY OFFER A PREMIUM OPTION, BUT THE FREE VERSION WORKS JUST FINE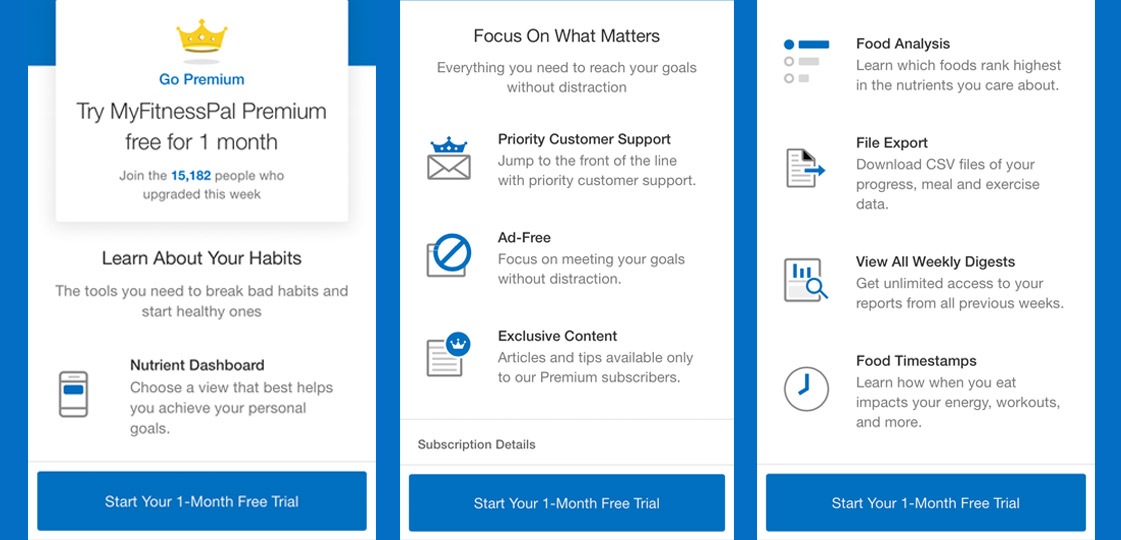 The free version offers a ton of features, but they do offer a premium option you can try for free for 1 month. After that first free month, the price goes up to $9.99 per month or $49.99 per year. The premium experience includes a lot of extras, but I think the main benefits are zero ads, the ability to record what time you eat and the option of exporting your information to an Excel file, which is great if you're working with a trainer or coach who wants to review your weekly food diary. The premium option also gives you the ability to customize your macro and micronutrient goals, such as making it vary by day, or setting specific goals for carbs, fats and proteins.
OKAY, OKAY, THERE ARE TWO THINGS THAT I DON'T LOVE
There are really only two negatives in my opinion, and they're not even that annoying to me:
1) It's not the best at tracking exercise on its own, though you do have the ability to sync it with fitness apps like MapMyRun. It's pretty good at reporting how many calories you burn on a run or other cardio exercise, but if I do a weight workout, it doesn't seem to log the calories burned correctly. Instead, I use my Apple Watch to track the calories I burn, then input that info into the app. I can still keep track of the calories I burn, I just have to add an extra step.
2) On one hand, it's great that anyone can enter a food item and add how many calories are in that item. On the other hand, humans aren't always correct. I know, shocker. For example, if you look up spinach in the app, a ton of options pop up (yay), but because some people just kind of make up the number of calories when they're entering foods, not all of those calorie counts are right (boo). So, if you're not paying attention, you could be recording the wrong amount of calories in your food log. The simple fix for this is to always choose a food that has a green verified check by it. This means that the calories have been fact-checked and they are correct.
So there ya have it. As you can tell, I'm a pretty big fan of the MyFitnessPal app. It's a great (and free!) tool to easily track calories, weight, water intake and workouts. Choosing what to eat—and more importantly—what not to eat on a daily basis can be such a challenge, but MyFitnessPal helps by teaching me about the nutrition in each of the foods I log.
Have you had any luck with the MyFitnessPal app? Let us know your thoughts in the comments below!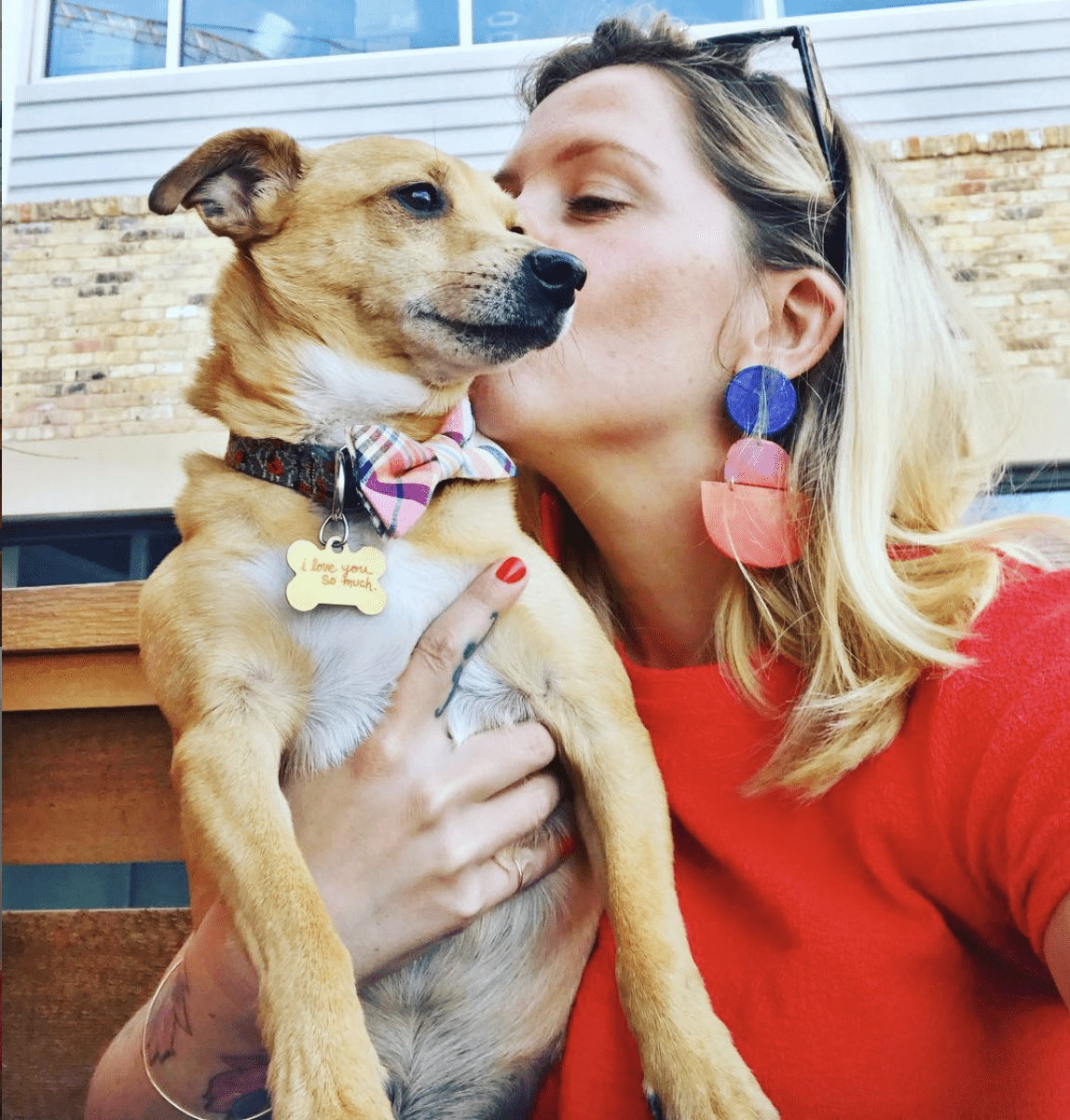 Melody Rose Rowan is the CEO + hostess with the mostess at @CuteStays. When she isn't blogging about style and interior design for her blog MustacheMelrose.com, Melody can be found renovating @MaxineTheAirstream with her husband, Scott, or playing with her two rescue dog-sons, Jake and Finn. Say hi at @mustachemelrose!