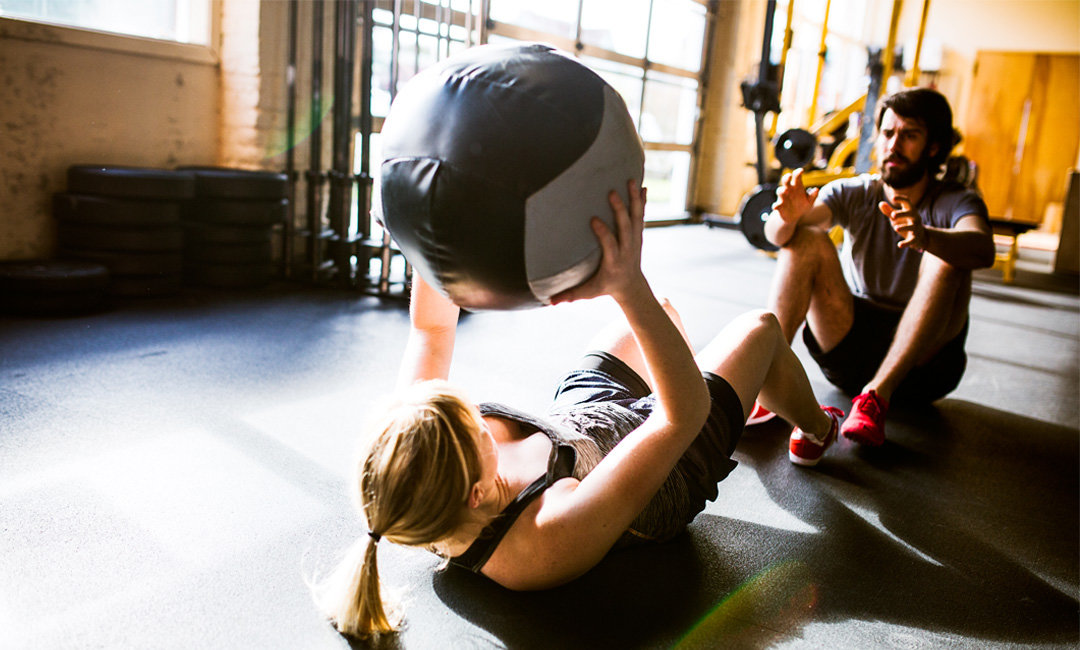 People spend a considerable amount of time working to get those ever so desired six-pack abs. While the old saying "abs are made in the kitchen" has more merit to it than most people know, if you want shredded abs, you'll also need to work them just like you would any other muscle group. They need just as much love and attention as those beefy biceps you're chasing. We've gathered a list of effective and simple ab workouts to help you reach your washboard dreams.
1. Four Movement Ab Combo
This ab combo from Mike and Viv will have you debating why you started it in the first place. It will tackle all angles of your core, plus they provide beginner, intermediate and advanced options to make it progressively harder. Beginners start at 30 seconds of work per movement and 15 seconds of rest between each movement, intermediate at 45 seconds of work and 15 seconds of rest. The more advanced people should try and tackle 60 seconds of work and 20 seconds of rest.
2. Killa Ab Workout
Our favorite part about this workout is that Makayla incorporates a Bosu Ball. If you haven't used one before, get your feel for it before trying to knock out bigger sets. If you have used them before, you know how much more challenging this makes a movement because your stability is challenged in a very different way. Makayla impressively does this with just her hands above her head, but if you need to grab a post, go for it!
3. Kettlebell Ab Burner
Though this workout is a doozy, it's one of our favorite circuits because it incorporates a kettlebell into every movement. We love the use of kettlebells because they are such a universal and effective piece of equipment. Try these movements with a light kettlebell or none at all if you haven't performed them before. Start with 3-5 rounds of 10-15 reps per exercise, limited rest (around 15-30 seconds) between movements and 30-60 seconds of rest between rounds. Use a weight you can perform almost all, if not all the reps for each movement. Once things become a little easier, you can start to up the weight. Proper and consistent movement should always be the goal!
4. Spicy Ab Workout
Now yes, we did say we enjoyed incorporating kettlebells into workouts, but that's not the main reason why we love this one so much. Elizabeth does an awesome job being creative with traditional movements, and challenges the stability of her core by using the kettlebell. She brings a lot of movements to the table, so you can try and tackle them all circuit style with about 10-15 reps per movement, or you can break them up into a few different circuits. Some of these movements are going to be very challenging balance and stability wise, so focus on it and take your time!
5. Bosu Core Burner
This is a great one from certified personal trainer Krista McGlynn, who brings a Bosu Ball into the picture for the entire cycle. Her workout includes 4 movements, with 30 seconds of work for each for about 4-5 rounds depending on what you can handle. The Bosu Ball is no joke and certainly makes things much more challenging. Check her demo video below and give it a shot!
6. 5-Minute Core Workout
FitWithFrank brings us a short, yet burning ab circuit with nothing more than a medicine ball. The great thing about this one is that Frank includes some static holds such as the Hollow Body Hold and the Full Plank Hold. Static exercises are a great way to develop and build core strength and should absolutely be included in your training plan.
7. Hanging Ab Crusher
This one from Brock Ashby is an intermediate to advanced ab workout, and it will challenge you both mentally and physically. It is done completely from a hanging position – he demos it off of rings but it can also be done off of a pull-up bar. If 10 rounds like Brock does is a little too much, maybe start at 5, and add a round or two the next time you attempt this one. It's definitely a fun one but it will absolutely push you. Try it out, and let us know how it goes!
Short on time? Check out these 10 Workouts That Only Take 20 Minutes.