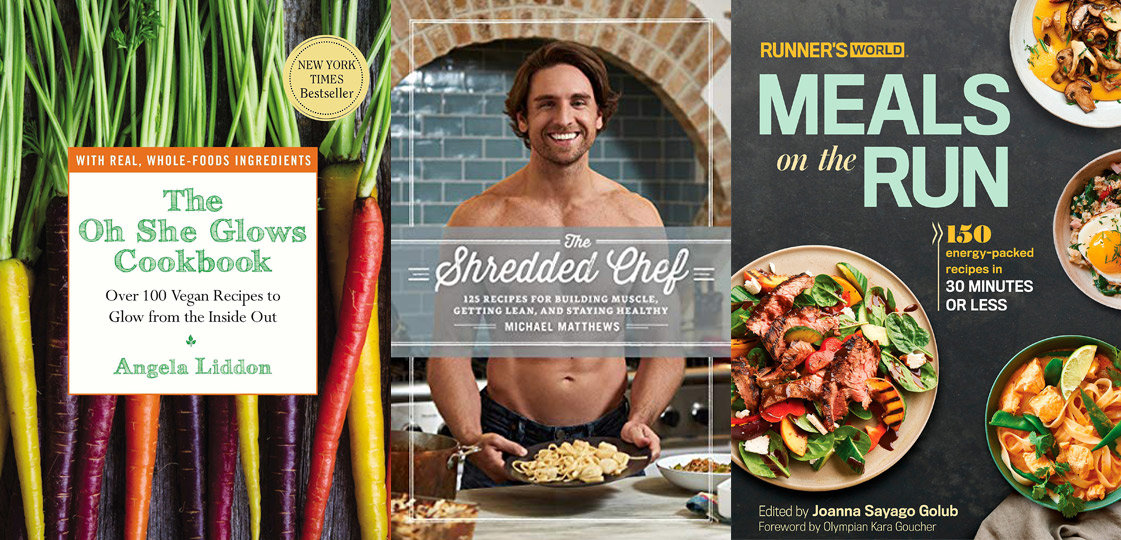 Disclosure: The below contains affiliate links, which means we'll receive a commission if you click on a product link. We hope you like our picks!
Cooking the same meals over and over is a great way to stay fit and keep up with your fitness goals, but it's also a great way to fall asleep in your Overnight Oats. If you're looking to switch things up but still stay on track, we're here to help. We've rounded up some healthy cookbooks full of meals that are sure to help liven up your kitchen and diet without messing with your body goals. Give the oats a break and live a little, will ya?
Vegans will love this book, but so will non-Vegans looking to add some variety to their meal plan. Angela Liddon, founder of the popular plant-based recipe blog, Oh She Glows, provides the world with amazing creative meals and snack ideas. It looks like people are pickin' up what she's puttin' down because it's a best seller on Amazon! Get your healthy hands on her other book too – Oh She Glows Every Day.
In this case, you can judge a book by its cover. The Shredded Chef has over 100 recipes for people looking to put on muscle, lose fat and everyone else in between. Michael Matthews includes recipes that are healthy, quick and tasty, and they won't keep you in the kitchen for hours. The cherry on top? He also details calories, protein, carbs and fats for every recipe in the book.
If you're following a Paleo diet and looking to improve your athletic performance while you're at it, this is the book for you. Stephanie Gaudreau from Stupid Easy Paleo has included over 100 recipes for meals and snacks to optimize the fuel you are putting into your body and fire up your training sessions.
Whether you're an elite athlete or someone who likes to push yourself at the gym after work, you can benefit from this cookbook full of delicious recipes to keep you at the top of your game. Recipes like protein-packed Walnut-Parmesan Chicken and Peanut Butter Crunch Bars full of healthy fats will fuel you up before workouts and refuel you after.
Meals on the Run is a great cookbook for runners (or anyone who is active), especially if you don't have a ton of extra time to spend in the kitchen. It's full of healthy recipes that you can cook up and put on your plate in 30 minutes or less. Recipes like Pumpkin-Ricotta Waffles and Mediterranean Pork Flatbreads are loaded with the energy you'll need for those long distance runs or hefty training sessions in the gym.
The pages of Rocket Fuel are filled with 126 power-packed meals and snacks to keep your energy levels up all day long. Author and award-winning dietitian Matthew Kadey lists the nutrition facts for each recipe and gives sports nutrition guidelines on what to eat before, during and after exercise.
Looking for more recipe posts? Check out 6 Meal Prep Recipes to Spice Up Your Week.